Bereich: International



Reload Niederlande
---
Die Benelux-Staaten sind im europäischen Musikmarkt schon immer gut für Trends + guter Musik gewesen.
Dennis Music
gehört zu den etabliertesten Production Music-Companies in den Niederlanden, die auch Sonoton vertreiben.
Die Zusammenarbeit zwischen Dennis Music + POPVIRUS  ist  auf den Tag genau 2 Jahren alt. Dennis Music-Chef Dennis Bosheck hat es sich Ende  November  auf  einer München-Stipvisite in Begleitung seines Promotion- + Marketingleader  Claire  Niven  + Ilona van Barneveld nicht nehmen lassen, POPVIRUS einen Besuch abzustatten + eine neue Reload-Offensive der Internetpräsenz von MyDennisMusic ankündigen. Ein darauffolgende Tweet war der Auftakt für eine POPVIRUS-Produktattacke.

A.B. Sporer über die Zusammenarbeit mit Dennis Music: "Nicht nur als Blumenfreund verbindet mich mit der Niederlande eine ganz besondere Freundschaft. Dennis Music ist die Heimat von POPVIRUS Library + ist eine sehr wichtige strategische Zusammenarbeit im hart-umkämpften Beneluxmarkt. Das Mastermind + Dennis Music-Boss Dennis Bosheck hat mit Claire Niven + Ilona van Barneveld zwei Medienprofis in die Company geholt, die MyDennis-Musicsearch "reloaden" + mit aggressivem Promotion- + Marketingaktionen POPVIRUS im niederländischen Markt etablieren werden. Wir freuen uns auf eine enge + kreative Zusammenarbeit. Spread the virus in Netherlands!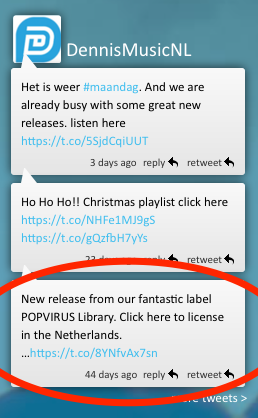 Wir freuen uns auf den Reload + auf eine engere Zusammenarbeit mit dem Tulpenland. Spread the virus in Netherlands!